The attorneys at Erin Joyce Law have significant experience representing both plaintiffs and defendants in legal malpractice matters. Erin has represented lawyers and firms against allegations of negligence, fraud, breach of fiduciary and ethical duties, breach of contract, and more.
Professional Liability Defense
Accusations of malpractice can be devastating for attorneys. In these matters, a professional's reputation and entire career can be at stake. The attorneys at Erin Joyce Law have extensive experience defending claims of legal malpractice, and the knowledge to both help prevent these claims and combat the assortment of issues that can arise after a claim has been made. We understand what motivates a client to bring a malpractice suit, and we utilize this knowledge to diligently represent attorneys at risk.
Legal malpractice claims are unlike any other type of litigation. They are unique, because they are usually dependent on "standard of care" and can rely on unique circumstances to determine an attorney's liability. If you are inexperienced in legal malpractice, responding to a claim yourself can make matters worse.
Our attorneys are prepared to perform a comprehensive analysis of the facts to prepare a strong case for our clients and help them decide the best course of action. We know that defending your reputation is of the utmost importance. If a former client has accused you of malpractice, contact Erin Joyce Law to schedule a consultation.
It can be devastating to put your trust into an attorney and have them disappoint you. Most attorneys are diligent in their work and observe the ethical standards of the profession. However, not all attorneys are thorough in their practice. Some lawyers may not handle their caseload with care and can create significant errors in clients' matters. As ethics attorneys, we hold those in our profession to the highest ideals of honesty, integrity, and competency.
When an attorney makes a serious error that compromises their client's case, they need to be held accountable. Legal malpractice includes any situation in which an attorney failed to act according to the minimum standard of professional care imposed by law, which results in damage to the client. These cases may include an attorney's breach of their professional obligations, fiduciary duties, or ethical obligations owed to their client. Certain examples of legal malpractice include misusing client funds, breaking attorney-client confidentiality, and failing to meet deadlines. In any legal malpractice case, an attorney-client relationship must have been present, implicitly, or explicitly in a written agreement.
Plaintiffs need to find competent and reliable attorneys to handle legal malpractice cases. In these complex matters, a claimant needs to both prove that malpractice has been committed and that, if not for the malpractice, a more favorable outcome would have been achieved. If the attorney has made serious mistakes reaching a level of a breach to the standard of care, you may have a successful case. At Erin Joyce Law, we do not shy away from difficult matters. We will utilize the full extent of our knowledge and experience to reach a successful outcome for you. If you are unsure whether a lawyer's actions constitute malpractice, contact us to discuss your situation and receive advice.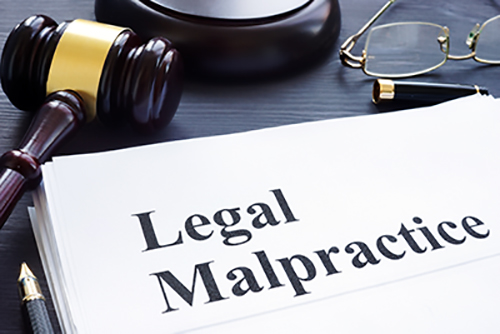 REPRESENTING CLIENTS THROUGHOUT ALL OF CALIFORNIA
When you get a letter from the State Bar, don't go it alone! You need competent, experienced counsel to respond to the State Bar at every stage. Your license is at risk, so ensure you have the best representation from a former State Bar prosecutor before sending any response to an investigator or responding to formal charges leveled by the State Bar. You cannot make an informed decision without good advice. Call Erin now.