Options for Regulatory Reforms to Promote Access to Justice.
Everyone should take a look at this flowchart from the State Bar which "explains" the recommendations of the Task Force on Expanding non-attorney involvement in the practice of law.  The State Bar is actively advocating authorizing non-attorneys to provide traditional legal services to clients and to allow non-attorneys to own law firms.  These proposals, disguised as an effort to expand access to justice, are not the way to ensure the poor and middle class receive quality legal services.  There are some states which mandate pro bono and low bono services to provide services to underserved communities. The public hearings are coming up on these proposals.  The profession is at a crossroads, and California attorneys should make their  voices heard on what direction we are all going to take.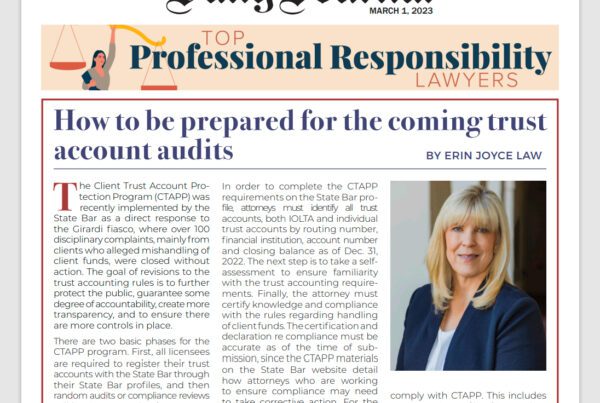 Top Professional Responsibility Lawyers 2023 Download PDF Version Click Here As a former 18-year State Bar prosecutor, Attorney Erin Joyce is an expert in legal ethics. Erin has extensive experience…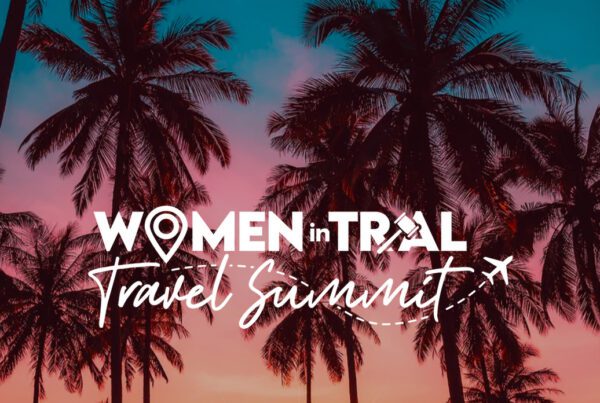 Erin Joyce Speaker Women in trial travel summit 2023 - Conrad Punta Mita Mexico April 12 - 16, 2023 Conrad Punta Mita, Mexico As a former 18-year State Bar prosecutor,…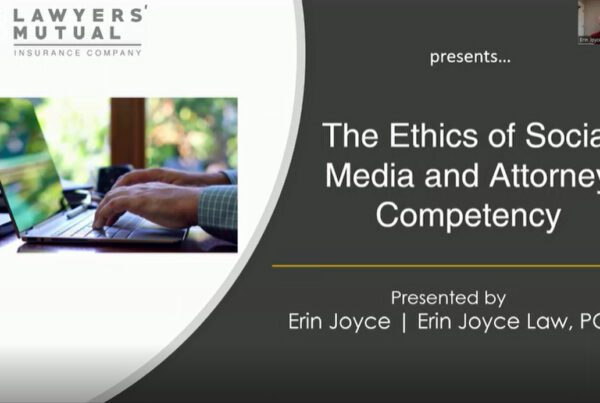 The Ethics of Social Media and Attorney Competency Erin Joyce has extensive experience in State Bar investigations and disciplinary proceedings, plus over twenty-five years of civil litigation practice. Erin was…
REPRESENTING CLIENTS THROUGHOUT ALL OF CALIFORNIA
When you get a letter from the State Bar, don't go it alone! You need competent, experienced counsel to respond to the State Bar at every stage. Your license is at risk, so ensure you have the best representation from a former State Bar prosecutor before sending any response to an investigator or responding to formal charges leveled by the State Bar. You cannot make an informed decision without good advice. Call Erin now.