California Eyes Opening Up Legal Services To Non-Lawyers
California – the US state whose economy is bigger than the UK's – could follow the example of England and Wales in embracing non-lawyer ownership of law firms, potentially breaking the dam of opposition in America.
The State Bar of California yesterday issued a public consultation on 16 "tentative" recommendations of its task force on access through innovation of legal services, which include allowing non-lawyers to provide certain legal advice and services, and permitting law firms to be made up of lawyers and non-lawyers, both subject to regulation.
Crucially, the proposals would narrow the principle of the unauthorised practice of law (UPL), a concept that has hitherto restricted the delivery of legal services in the US to qualified lawyers only. It has also hampered the development on online legal services.
The idea of non-lawyer ownership has been considered at various levels in the US for several years, in particular by the nationwide American Bar Association, but has never garnered sufficient support.
The California recommendations would urge lawyers to "strive to expand access to justice through innovation with the use of technology and modifications in relationships with non-lawyers".
A paper produced by the task force – which was made up of 11 non-lawyers, 10 lawyers and two judges – said: "Innovation requires changes in perception, new knowledge, and often unexpected occurrences. It requires collaboration, multi-disciplinary participation and funding/investment.
"Expecting new innovation in access to justice to happen utilising the same knowledge, perceptions and people (lawyers) with little to no reward or incentive for new partners to the industry is expecting innovation to foster in a place that has yet to achieve meaningful innovation in access to justice.
"In fact, a recent survey has suggested that the access to justice gap has continued to increase, suggesting that a major shift in the legal field is necessary to disrupt the continuing access to justice crisis."
It argued that traditional lawyer regulation "has not proven to foster innovation", especially the types of innovative delivery models that might flow from enhanced competition.
"The slow evolution of the rules governing lawyers, including, but not limited to, lawyer advertising and solicitation, fee sharing/fee splitting, and UPL, are examples of regulatory reforms failing to keep pace with changes in the legal services market, including changes in the market driven by evolving innovation and technology and related consumer behavior and preferences."
Echoing findings over here, the task force heard how consumers were faced with a growing number of legal problems, without recognising them as such, and turned to family members or friends for advice.
"Lawyers are believed to be out of reach to many mainly because of cost," research seen by the task force said.
The paper said: "In light of this, the task force reached a general consensus that allowing qualified non-lawyers to advise consumers on the existence of solutions for resolving legal problems in areas of critical need (e.g., housing, health and social services, domestic relations, domestic violence) could be justified as a limited exception to UPL."
The consultation seeks views on the best way to regulate such non-lawyers, as well as firms combining lawyers and non-lawyers.
The task force, which has received evidence from Crispin Passmore, former director of policy at the Solicitors Regulation Authority, will prepare a final report by the end of the year.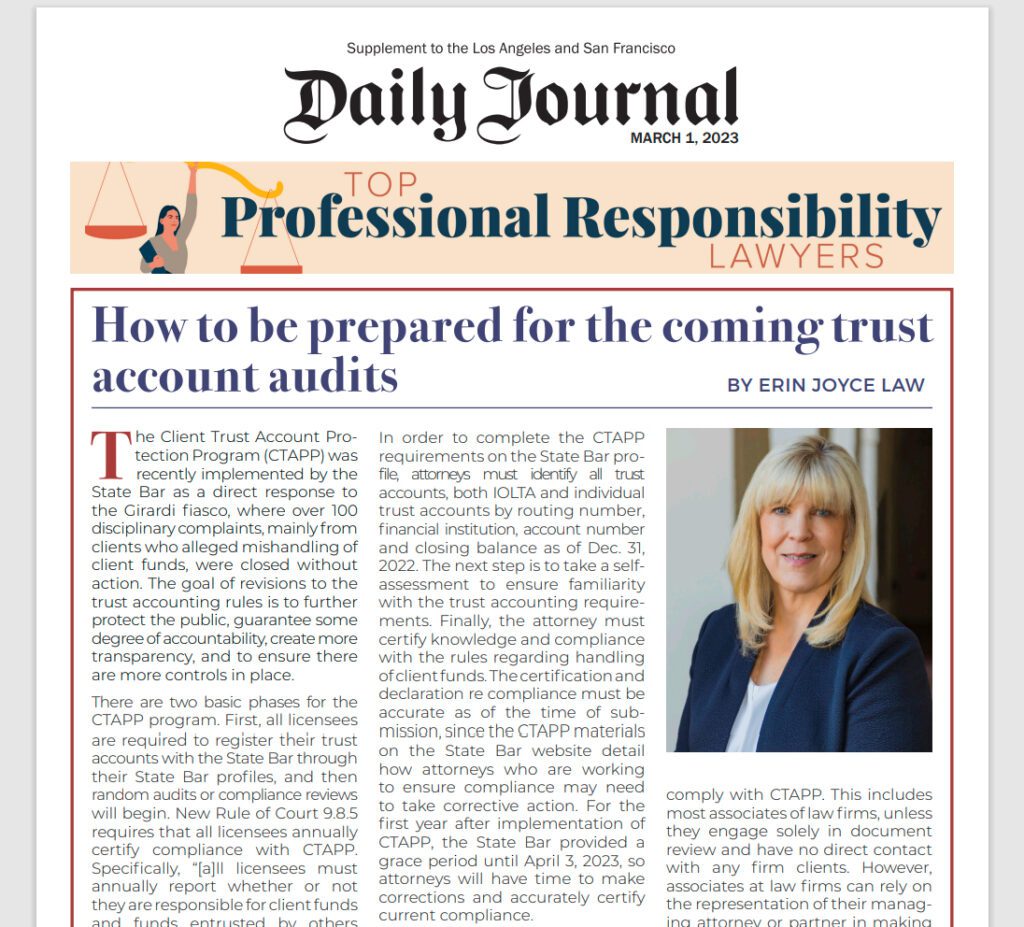 Top Professional Responsibility Lawyers 2023 Download PDF Version Click Here As a former 18-year State Bar prosecutor, Attorney Erin Joyce is an expert in legal ethics. Erin has extensive experience…

Erin Joyce Speaker Women in trial travel summit 2023 - Conrad Punta Mita Mexico April 12 - 16, 2023 Conrad Punta Mita, Mexico As a former 18-year State Bar prosecutor,…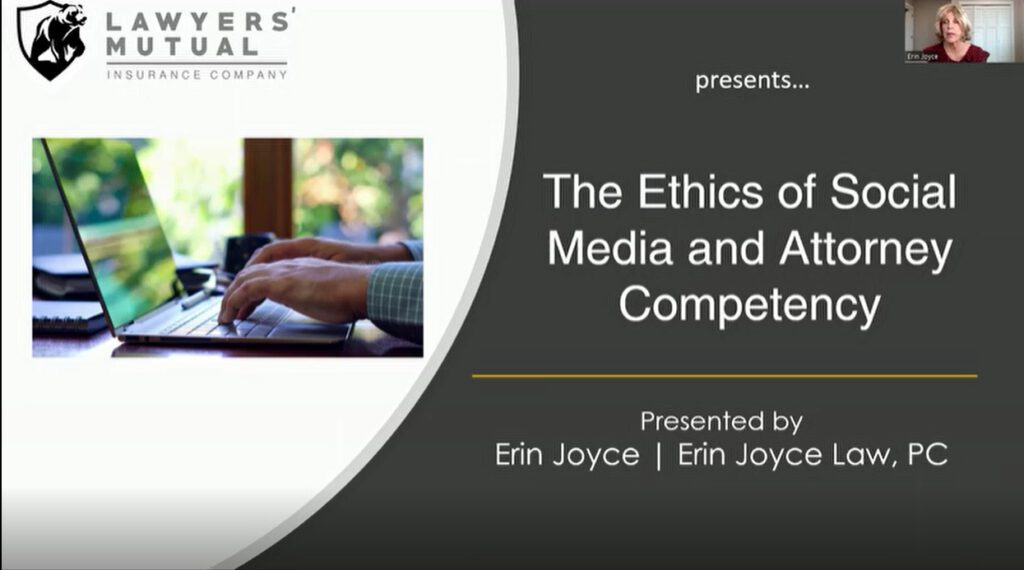 The Ethics of Social Media and Attorney Competency Erin Joyce has extensive experience in State Bar investigations and disciplinary proceedings, plus over twenty-five years of civil litigation practice. Erin was…
REPRESENTING CLIENTS THROUGHOUT ALL OF CALIFORNIA
When you get a letter from the State Bar, don't go it alone! You need competent, experienced counsel to respond to the State Bar at every stage. Your license is at risk, so ensure you have the best representation from a former State Bar prosecutor before sending any response to an investigator or responding to formal charges leveled by the State Bar. You cannot make an informed decision without good advice. Call Erin now.