Supreme Court Issues Statement Regarding Partial Disclosure of July Bar Exam
"The court will ensure that there is a thorough and independent investigation."
The Supreme Court of California today issued the following statement about the disclosure related to the July California Bar examination:
Over the weekend, State Bar officials advised the court of the inappropriate disclosure, to certain law school deans, of the general subjects to be tested on the essay and performance test portions of the July 2019 California Bar Examination, and of the State Bar's subsequent decision to provide this same information to all test takers. The court understands and shares the concerns that this disclosure has generated. Exercising its oversight responsibilities over matters relating to bar admissions, the court will ensure that there is a thorough and independent investigation into the circumstances surrounding the disclosure, and that appropriate steps are taken to protect the integrity of the bar examination and identify and address any consequences.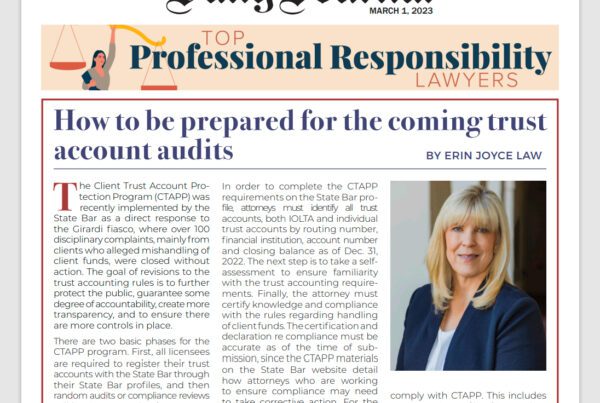 Top Professional Responsibility Lawyers 2023 Download PDF Version Click Here As a former 18-year State Bar prosecutor, Attorney Erin Joyce is an expert in legal ethics. Erin has extensive experience…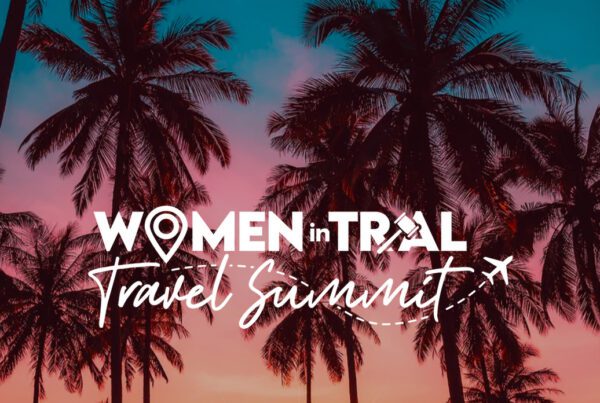 Erin Joyce Speaker Women in trial travel summit 2023 - Conrad Punta Mita Mexico April 12 - 16, 2023 Conrad Punta Mita, Mexico As a former 18-year State Bar prosecutor,…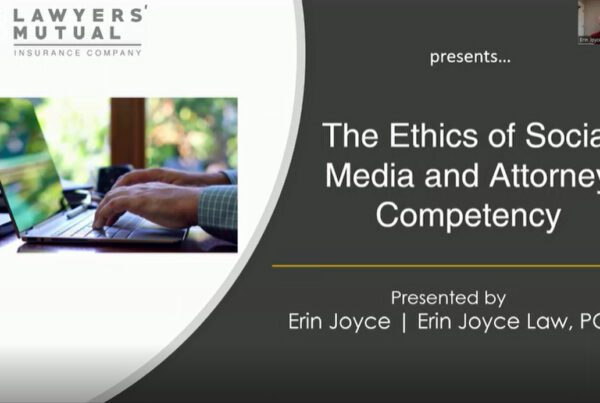 The Ethics of Social Media and Attorney Competency Erin Joyce has extensive experience in State Bar investigations and disciplinary proceedings, plus over twenty-five years of civil litigation practice. Erin was…
REPRESENTING CLIENTS THROUGHOUT ALL OF CALIFORNIA
When you get a letter from the State Bar, don't go it alone! You need competent, experienced counsel to respond to the State Bar at every stage. Your license is at risk, so ensure you have the best representation from a former State Bar prosecutor before sending any response to an investigator or responding to formal charges leveled by the State Bar. You cannot make an informed decision without good advice. Call Erin now.