Client Trust Account Protection Program
Lawyers have statutory and ethical obligations to safeguard funds they hold in trust for their clients or other persons. Lawyers must keep those funds separate from their business and personal accounts. Lawyers must maintain accurate books and report timely and completely to their client regarding the status and accounting of these funds.
To strengthen public protection and better support attorneys in fulfilling their client trust accounting duties, the State Bar is implementing a Client Trust Account Protection Program.
Beginning in December 2022, all California lawyers must comply with new requirements to:
Register their client trust accounts (including IOLTA) annually with the State Bar, either individually or through their law firm or organization;
Complete an annual self-assessment of client trust account management practices (questions previewed here); and
Certify with the State Bar that they understand and comply with requirements and prohibitions applicable to the safekeeping of funds and property of clients and other persons in rule 1.15 of the Rules of Professional Conduct.
Beginning in December 2022, attorneys will be able to fulfill their reporting requirements through My State Bar Profile; law firms and organizations will be able to provide account information for attorneys through agency billing.
Later phases of the CTAPP will involve further enhancements, including:
Expanded public outreach and education on the rights of clients and attorney responsibilities;
Enhanced education for attorneys on best practices in client trust account management; and
Compliance reviews of selected lawyers by a certified public accountant to ensure adherence to client trust account management requirements.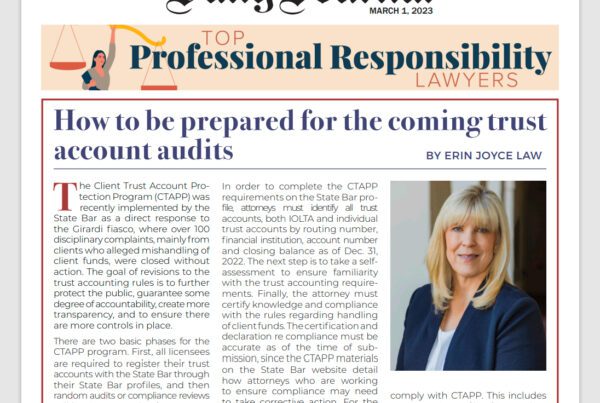 Top Professional Responsibility Lawyers 2023 Download PDF Version Click Here As a former 18-year State Bar prosecutor, Attorney Erin Joyce is an expert in legal ethics. Erin has extensive experience…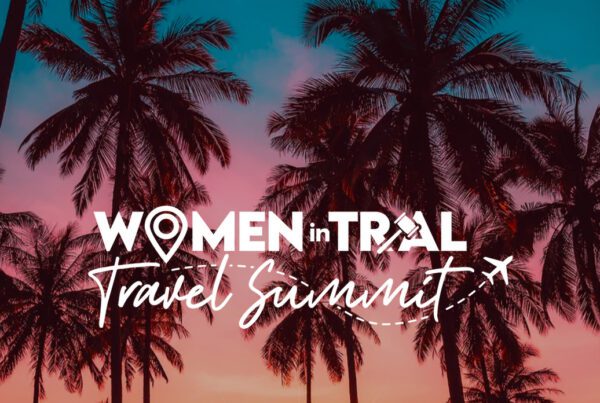 Erin Joyce Speaker Women in trial travel summit 2023 - Conrad Punta Mita Mexico April 12 - 16, 2023 Conrad Punta Mita, Mexico As a former 18-year State Bar prosecutor,…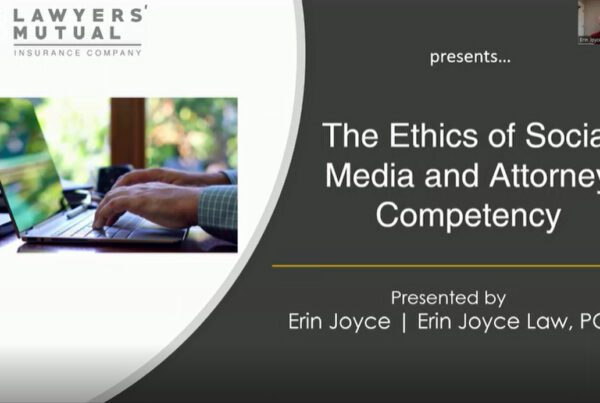 The Ethics of Social Media and Attorney Competency Erin Joyce has extensive experience in State Bar investigations and disciplinary proceedings, plus over twenty-five years of civil litigation practice. Erin was…
Licensing

This is an excellent firm specializing in all Licensing issues. Rachelle De La Rocha helped me tremendously with a very nuanced situation involving the testing process. I highly recommend this firm, they have great insights and ideas.
Great Team!

Happy to leave a great review for Erin and her team. I have referred many clients to her and all have had great outcomes. Thank you for your continued help!
Highly Recommend

Erin was phenomenal. Her team was responsive, knowledgeable, and efficient. I recommend Erin to any applicant facing hurdles with the State Bar's application process.
REPRESENTING CLIENTS THROUGHOUT ALL OF CALIFORNIA
When you get a letter from the State Bar, don't go it alone! You need competent, experienced counsel to respond to the State Bar at every stage. Your license is at risk, so ensure you have the best representation from a former State Bar prosecutor before sending any response to an investigator or responding to formal charges leveled by the State Bar. You cannot make an informed decision without good advice. Call Erin now.