As Of January 1, 2022, Erin Joyce Law Is Now A Professional Law Corporation
We'd also like to introduce you to our team of dedicated attorneys:
Robin Brune is an experienced attorney with demonstrated proficiency in legal ethics, trials, criminal law, and administrative litigation. Robin became a prosecutor as a Deputy State's Attorney in Vermont and continued as a Deputy District Attorney in El Dorado County, California. Next, for nearly twenty years, Robin prosecuted misconduct as Trial Counsel for the Office of Chief Trial Counsel at the State Bar of California. Robin graduated cum laude from Brandies University and received her J.D. from the George Washington University National Law Center.
Raquelle de la Rocha is an accomplished employment litigator ethics expert, who prosecuted attorney discipline as Trial Counsel at the State Bar and has lectured extensively on legal ethics. Raquelle taught full time at UCLA School of Law, including courses on legal ethics, legal writing, and trial advocacy. She has served important government oversight positions, including President of the Los Angeles City Ethics Commission and President of the Los Angeles Police Commission. Raquelle obtained both her B.A. in philosophy and J.D. from UCLA and is a third generation Angelino.
Attorney Ken Davis believes prosecutorial ethics is the highest standard in the law. Therefore, he works vigorously to fight against any prosecutorial misconduct or over-reach or abuse of power. He served as a criminal prosecutor for several years and volunteered as a prosecuting attorney at the Pasadena City Attorney's Office during the COVID-19 pandemic. Ken has first-chaired 20 trials and successfully handled hearings of all types, from civil business litigation to family law. In all matters, Ken is diligent, loyal, and responsive. Ken graduated cum laude with a B.S. in Economics from SUNY College at Buffalo and received his J.D. from the University of Chicago Law School.
Erin Joyce is an expert in legal ethics, with extensive experience in State Bar investigations and disciplinary proceedings, as well as over twenty-five years of civil litigation practice. Erin was admitted in 1990 and practiced for almost eight years in an intellectual property boutique before becoming a prosecutor for the State Bar. She has over twenty years of experience handling all aspects of discipline cases against attorneys in State Bar Court. Erin has personally tried dozens of State Bar trials and several appeals. In addition to her work at Erin Joyce Law, Erin contributes to the Los Angeles County Bar Association's Professional Responsibility and Ethics Committee and its Small Firm and Sole Practitioner section. Erin is also on the faculty at Abraham Lincoln University teaching ethics.
Our team is prepared to provide you with the utmost support and attention. We wish you a happy new year and look forward to continuing working with you during this new chapter. Thank you for your continued support.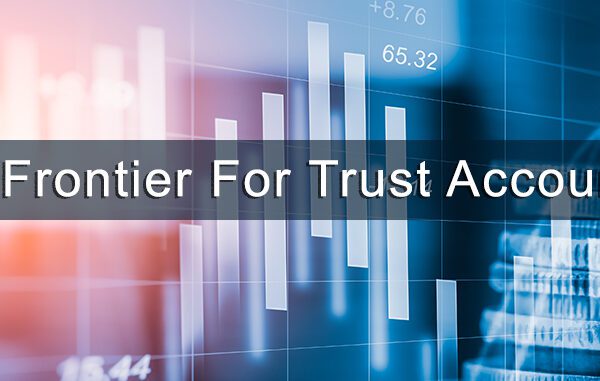 CAALA 2023 New Frontier For Trust Accounting Download PDF Version Click Here As a former 18-year State Bar prosecutor, Attorney Erin Joyce is an expert in legal ethics. Erin has…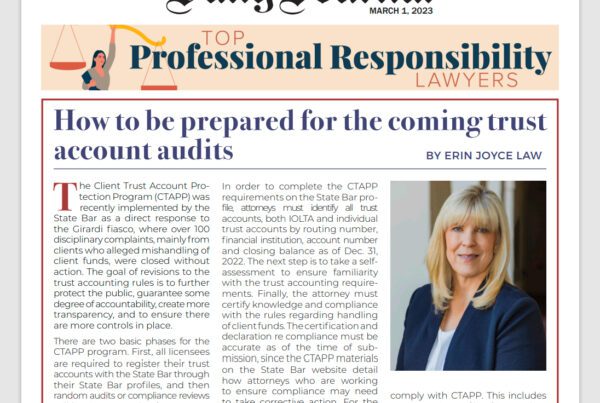 Top Professional Responsibility Lawyers 2023 Download PDF Version Click Here As a former 18-year State Bar prosecutor, Attorney Erin Joyce is an expert in legal ethics. Erin has extensive experience…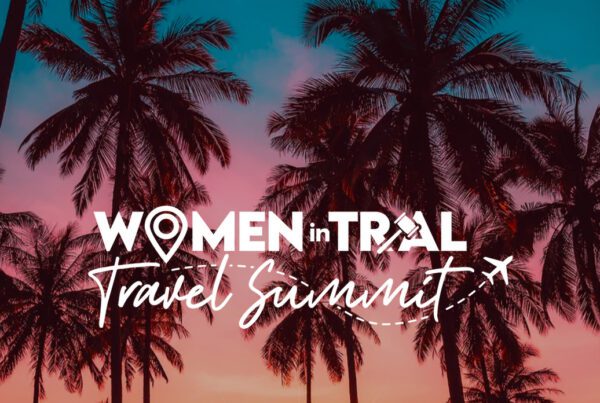 Erin Joyce Speaker Women in trial travel summit 2023 - Conrad Punta Mita Mexico April 12 - 16, 2023 Conrad Punta Mita, Mexico As a former 18-year State Bar prosecutor,…
REPRESENTING CLIENTS THROUGHOUT ALL OF CALIFORNIA
When you get a letter from the State Bar, don't go it alone! You need competent, experienced counsel to respond to the State Bar at every stage. Your license is at risk, so ensure you have the best representation from a former State Bar prosecutor before sending any response to an investigator or responding to formal charges leveled by the State Bar. You cannot make an informed decision without good advice. Call Erin now.