April 12 – 16, 2023
Conrad Punta Mita, Mexico
This conference for women lawyers mixes legal education with travel to beautiful Punta de Mita, Mexico.
Attend the 2nd Annual Women in Trial Travel Summit (WITTS), held at the beautiful Conrad resort in Punta Mita, Mexico. WITTS is hosted by Lauren Wood, a trial attorney at Omega Law Group in Beverly Hills and the owner of Travel is the Cure, a travel blog and company that hosts group trips and MCLE events. This attorney conference mixes legal education with exciting travel destinations. WITTS is an event where you'll bond with like-minded women, experience the culture in a new locale, network with vendors and other trial lawyers, and enjoy some much needed fun in the sun, away from the office. There will be MCLE* classes in the mornings, with optional excursions in the afternoons.
The first ever WITTS was held from April 1st through April 4th, 2022. There were five hosted events, including a welcome cocktail reception, lunch with keynote speaker, poolside cocktail hour with live mariachi music, dinner with a live Cuban band and beachside farewell brunch and champagne toast.
Click Here to Sign up to get notifications about future events.
​*A CLE application will be filed in the State of California.  Once determination is received from California's MCLE Board, all registered attorneys will be notified via email. Consult with the MCLE board in your state to determine eligibility.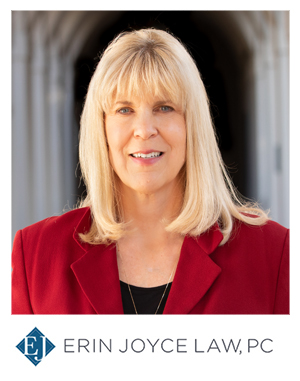 Erin is a former 18 year State Bar prosecutor now focusing on ethics consultations for small and mid-sized firms and State Bar defense.
Lecturer Bio
Erin Joyce, Esq.
Erin Joyce has extensive experience in State Bar investigations and disciplinary proceedings, plus over twenty five years of civil litigation practice.
Erin was admitted in 1990 and practiced for nearly eight years in an intellectual property boutique before joining the Office of Chief Trial Counsel as a prosecutor for the State Bar, from 1997 through 2016. Erin has almost twenty years of experience handling all aspects of discipline cases against attorneys in State Bar Court, from the filing of the complaint through trial and review. She has personally tried dozens of State Bar trials and several appeals. She has a comprehensive understanding of how State Bar investigations and proceedings unfold. Moreover, she has been involved in licensing matters for other professionals, such as EMTs and paramedics.
Before going into private practice, Erin served as Chief Special Investigator for the Los Angeles Fire Department, as a prosecutor for the State Bar of California, and as a lawyer for multiple private practices.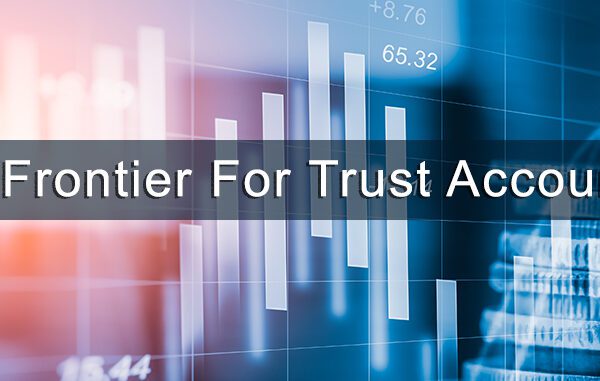 CAALA 2023 New Frontier For Trust Accounting Download PDF Version Click Here As a former 18-year State Bar prosecutor, Attorney Erin Joyce is an expert in legal ethics. Erin has…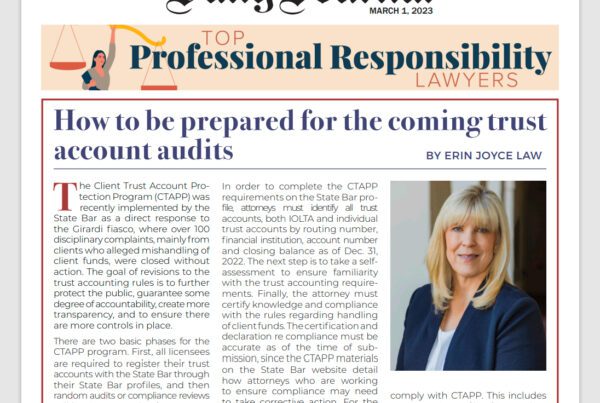 Top Professional Responsibility Lawyers 2023 Download PDF Version Click Here As a former 18-year State Bar prosecutor, Attorney Erin Joyce is an expert in legal ethics. Erin has extensive experience…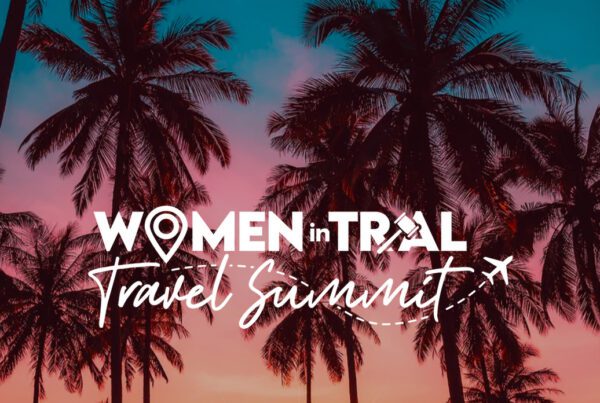 Erin Joyce Speaker Women in trial travel summit 2023 - Conrad Punta Mita Mexico April 12 - 16, 2023 Conrad Punta Mita, Mexico As a former 18-year State Bar prosecutor,…
Licensing

This is an excellent firm specializing in all Licensing issues. Rachelle De La Rocha helped me tremendously with a very nuanced situation involving the testing process. I highly recommend this firm, they have great insights and ideas.
Great Team!

Happy to leave a great review for Erin and her team. I have referred many clients to her and all have had great outcomes. Thank you for your continued help!
Highly Recommend

Erin was phenomenal. Her team was responsive, knowledgeable, and efficient. I recommend Erin to any applicant facing hurdles with the State Bar's application process.
REPRESENTING CLIENTS THROUGHOUT ALL OF CALIFORNIA
When you get a letter from the State Bar, don't go it alone! You need competent, experienced counsel to respond to the State Bar at every stage. Your license is at risk, so ensure you have the best representation from a former State Bar prosecutor before sending any response to an investigator or responding to formal charges leveled by the State Bar. You cannot make an informed decision without good advice. Call Erin now.